Password Manager for Mac
Best form filler & Password Manger for Mac OS X
Roboform for Mac takes care of all your online passwords so you can use strong and unique passwords for every site and never forget any of them!
Roboform supports Mac OS X 10.5 and later Intel Macs are supported, Power PC is not supported.
Both Safari and Firefox browsers are supported.

In short, Roboform for Mac keeps track of all your web passwords, automates sign-in, guards from identity theft, and allows you to stop worrying about your safety while online.
Key Features of Roboform for Mac Password Manager for Mac OS X
Strong Password Generator automatically creates and fills passwords. details...
Built-in Anti-Phishing and Keylogger Protection provides security and peace of mind. details...
Take your information anywhere on your iPhone/iPod touch or Palm. details...
Builds on Apple's OS X Keychain and goes far beyond Safari's AutoFill.
See Roboform for Mac in Action!
Quickly see what Roboform for Mac can do for you in this 3 minute movie.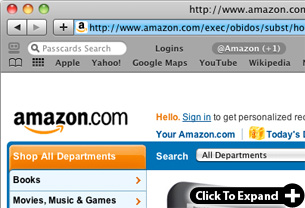 Access Roboform for Mac From Within Most Web Browsers
Roboform for Mac integrates directly into most browsers to securely manage and auto-fill web forms. By integrating directly in your browser, there is no need to switch applications to find your passwords or remember the password or copy-and-paste them.
Roboform for Mac fully supports most web browsers, including Safari and FireFox.
---
Automatic Generation of Strong Passwords
You can dramatically increase the safety of your data by using random strong passwords for all your web sites. Weak passwords are one of greatest contributers to information theft.
To solve this issue, Roboform for Mac allows you to generate random strong passwords easily, without ever leaving your browser. With one click you can generate a strong password, fill the password fields, and remember this newly generated password so you don't ever need to memorize it. Since you have no need to remember the password, Roboform for Mac is able to a strong password policy of a random sequence of numbers, lower-case letters, upper-case letters, and symbols.
The following are some examples of the strong passwords Roboform for Mac's password generator will generate for you:
8AdEc7mbOKDbtj9ck7VG1MpaLiQ3QoGQdWdc6FuKp
8sqm1aLC3S3QiyU4fhcq3VSLtfCo0VBcztYfiBTRsIuNj85yP5Lj
omJNk0NwAamGG5WUUJcg7sN2
These passwords are random and therefore very difficult for a criminal to guess. The only practical way for a criminal to get these passwords is by using a KeyLogger. However, Roboform for Mac thwarts any key-logging attempts by filling generated passwords directly into the password fields without using the keyboard or clipboard, leaving the KeyLogger nothing to capture.
---
Built-in Anti-Phishing Technology
Phishing is a criminal activity that makes a fraudulent attempt, usually through email, to steal your personal information. Phishing emails come from criminal who masquerade as a legitimate company, and try to trick you into providing your personal information.
Roboform for Mac protects you from Phishing by remembering the domain of each site when you save a Login. Roboform for Mac will then only fill your saved login information on web sites whose location matches the saved domain name. This means if you saved a login for paypal.com, Roboform for Mac would not allow you to restore the form on poypal.com, even though the domains look very similar and could easily trick a human.
Once you become accustomed to allowing Roboform for Mac to manage your passwords, you will never try to fill a criminal's form with your login details.
In addition to the inherent Anti-Phishing of a browser-integrated password manager, Roboform for Mac goes even further and provides optional integration with the online PhishTank web service that tracks and identifies phishing web sites.
---
Protection from Keyloggers
One of the most effective ways criminals have of stealing your information is by recording what you type. Keyloggers are programs that silently capture all your keystrokes, including passwords and credit card information.
Once the criminal has your information, they can log onto the website as you and drain your bank accounts and commit fraud with your accounts. Even worst, the criminal can steal your identity and open accounts (like new credit cards) in your name, leaving you holding the bag.
Roboform for Mac helps protect you from keyloggers and identity theft with its automatic form filler technology. Roboform for Mac is able to log you into websites and fill order forms without ever using the keyboard or clipboard.
Since Roboform for Mac avoids the keyboard completely, keyloggers will never have a chance to see your information. Furthermore, Roboform for Mac is able to generate and fill passwords that are completely invisible to keyloggers.
---
Take Your Information Anywhere
When using strong random passwords it is important to be able to access your information where ever you go. Roboform for Mac provides solutions for iPhone/iPod touch and Palm so you can take your data anywhere.
In addition to support for mobile devices, Roboform for Mac optionally allows you to store your data on the Roboform everywhere web service, enabling you to access your information from any modern web browser.
---
Secure Storage With Apple's OS X Keychain
Roboform for Mac builds on the legendary Keychain technology that comes pre-installed on every Mac OS X machine. By using Apple's Keychain to store all your information you benefit from having an entire team at Apple ensuring your data is safe and never locked into a 'fly-by-night' company's database.
If you trust Apple, then you can trust Roboform for Mac to keep your information safe.
---
Roboform for Mac vs. Safari AutoFill
Often Roboform for Mac is compared to Safari's built in Autofill feature. While similar in purpose, Roboform for Mac goes far beyond Safari's limited AutoFill capabilities. Here's how:
Always Works: Roboform for Mac is able to save and restore all web forms. Safari and other browsers are unable to save your login details on many sites with "non-standard" login forms. Most often Safari AutoFill fails on Financial web sites, exactly where you need it most.
Share Data Across Browsers: Despite Safari being a great browser, many OS X users like being able to switch between browsers. If you rely on Safari's autofill, none of your data is available in any other browsers. Roboform for Mac makes all your data available to each browser without any need for synchroniaztion.
Easily Use Multiple Accounts: Roboform for Mac naturally allows multiple saved forms for a single site. While Safari does allow you to have multiple saved forms on a single page, it is not very intuitive and requires you to remember each username.
Fill & Submit: Roboform for Mac can automatically fill and submit the form for you, saving you several keystrokes and clicks. There are even hot keys to Fill or Fill & Submit the current form.
Quickly Generate Strong Passwords: Roboform for Mac is able to generate the strongest passwords possible for the current page and fill them automatically. By determining the maximum length that a website will allow for a password, Roboform for Mac will generate the maximum sized password for you.
More AutoFill Fields: Safari limits your autofill capability to the information available in your address book. Roboform for Mac securely stores your information in the keychain and is therefore allowed to keep much more information, including Credit Card details.
Multiple Identities:Safari only allows you to have one profile defined for yourself. In today's world, you often want to have a different persona based on who you are dealing with. Roboform for Mac allows you to define multiple identities and select which identity to fill a web form with.
Safari Matches URLs Exactly: Safari will only allow forms to be filled on pages whose URL matches exactly. While this might seem like a good idea, it is in fact very inconvenient. If a web site moves its login page, Safari will not be able to log you in any longer. Not only does Roboform for Mac avoid this problem, but it will also allow you to use a Registration form to login.
While Safari's AutoFill is sufficient for some basic tasks, Roboform for Mac is required to take the Keychain to the next level.
---
Automatic Entry of Web Forms
One of the most boring and tedious tasks when surfing the internet is entering your personal information when registering yourself on a site. Not only is it boring, it wastes time that you could be better spent elsewhere.
Roboform for Mac solves this problem by providing an AutoFill feature that allows you to define your personal profile information once, and then automatically fill a web form with one click.
Those who have used Safari or Camino will already be familiar with the concept of AutoFill. Roboform for Mac takes the concept to a whole new level by allowing you to define multiple identities and by allowing more types of information to be stored. Since Safari and Camino both use your Address Book entry, they are limited to the amount of information that can be autofilled. For instance, the Address Book is insecure so it cannot keep any sensitive data like financial information. Since Roboform for Mac uses the keychain to store your profile information, we are able to keep this sensitive information. This allows the AutoFill form filler to automatically enter your credit card information during e-commerce transactions.
In addition to automating personal information entry, Roboform for Mac allows you to save entire forms before you submit them. You can later restore the entire form with a single click. Form Filler software has been very popular on the Windows platform for several years; now Macintosh users get to share the fun!
Automatic form filling and Restore Form technologies are very useful for many types of situations:
Online sweepstakes sites require you to enter all your personal information. Using AutoFill can save you several minutes per website. One of our users states that Roboform for Mac allows her to enter 50 additional sweepstakes per day!
Signing up for online contests can be simplified with AutoFill. Roboform's multiple identity support allows you to enter the same contest several times with ease (be sure to check contest regulations).
Web site developers and testers rave about how form filler software simplifies testing their websites. By predefining all their test cases as saved forms, they are able to greatly reduce the turn-around time of regression testing by leveraging the form filler.
Web masters use Roboform for Mac to submit their websites to the hundreds of directories.
Public relations staff need to post their products' Press Releases to several different websites each time their product is updated.
Shareware developers use Roboform for Mac to login and update their software on multiple websites.
One of the main goals of Roboform for Mac is to save you time. Power users like the ones mentioned above save several hours a week, while the average user saves about 5 minutes a day. Even if Roboform for Mac can save you 2 minutes a day, you will save over 12 hours a year!
---
Synchronizing Your Roboform for Mac Information
Roboform for Mac works perfectly with Apple's .Mac, allowing you to easily synchronize your data between all your Macs. Since Roboform for Mac uses the OS X Keychain to store all your information, .Mac integration is provided automatically by Apple. Simply enable the Synchronize this keychain using .Mac option in the Roboform for Mac Keychain settings.
In addition to .Mac synching, Agile Web Solutions developed the Roboform everywhere web service to enable automatic syncing of your Roboform for Mac data between machines. While similar to .Mac, myRoboform for Mac goes beyond the basic synchronization of keychains and provides online access to your information from any modern web browser.
---
Requirements
Mac OS X 10.5, 10.6, 10.7, 10.8 and later. Supports most modern web browsers.
Download Roboform For Mac
You can Download Roboform for Mac and give it a test drive.
Password for Mac software list